The CW Renews 'The Flash' After just 2 Episodes! The Flash airs in the UK on Sky 1 at 8pm on Tuesday (October 28th) so we thought we would share some of the buzz surrounding the new TV Series.
Based on the comic book character of the same name, The Flash tells the story of Barry Allen – a man struck by lightning and who wakes up from a coma to discover his body transformed and that he is the 'fastest man alive'.
Grant Gustin dons the famous red outfit, reprising his role as Barry Allen having unveiled the character on the hugely popular 'Arrow' – another comic to TV show success story based on the DC character Green Arrow.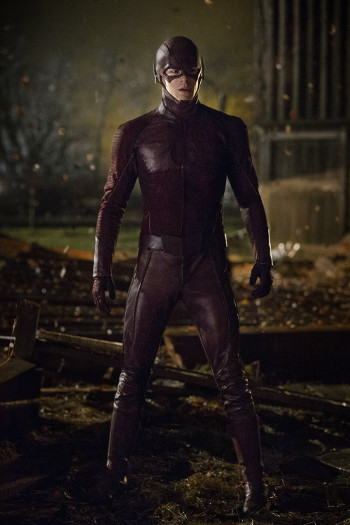 Keen Flash fans will find that some of these names ring a bell from the DC Comics world, although Arrow hasn't stuck rigidly to the canon, so it was always likely that The Flash wouldn't either. Whether you know the names or not, each story thread fairly thrums with possibilities, keeping the pilot zipping along nicely.
Only the utter blindness of Iris to Barry's love and her predictable fall into the arms of Thawne are a bit tired. But this is the usual superhero formula – to have the girl of his dreams hanging around but initially unattainable – but it can get boring and if you're going to update things, isn't this the sort of thing that could easily go?
Josh Wilding, a Cardiff-based writer for film website HeyYouGuys.com and ComicBookMovie.com, adds that there is a huge appetite for comics-turned-TV-series and The Flash is doing particularly well.
"It's still early days, but The Flash has been incredible so far. It's extremely faithful to the source material and the special effects are up there with a lot of big budget blockbusters."
Super hero fans are in for another televisual treat later this month when the UK premiere of another DC legend hits the small screen.

The Flash airs in the UK on Sky 1 at 8pm on Tuesday (October 28th)